GEOTEC HANOI AT A GLANCE
GEOTEC HANOI has become a widely known event not only in Vietnam but also in the world. The success of the event has increased year by year with regard to number of published papers, attendees, visitors, exhibition booths and sponsors from different countries and territories. Some statistic records of the event over the last four times are highlighed in the figures below.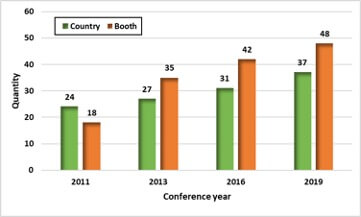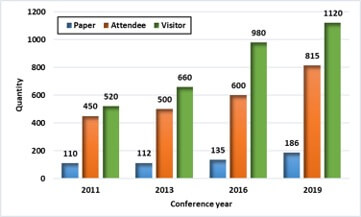 GEOTEC HANOI 2019 – EXHIBITION & SPONSORSHIP
The 4th conference, GEOTEC HANOI 2019 (GH2019), was successfully organized on November 28 – 29, 2019 at the National Convention Center (NCC), Hanoi. ​The conference welcomed more than 800 attenddees from 37 countires in the world.
GH2019 was greatly sponsored by: RAITO Corp (diamond), Nihon Base (Diamond), NIPPON STEEL & SUMITOMO METAL VIET NAM CO.,LTD (Gold), ACE Geosynthetics (gold), HAICATEX (gold), Siam City Cement (Vietnam) Ltd (gold), PHAN VU GROUP (silver), JFE STEEL CORPORATION (bronze), IBST (support), Okuyama Boring Co., Ltd (support), CDC jsc (support), Bentley Systems International Limited (support), and many other organizations.
Besides excellent keynote lectures and technical presentations, GH2019 was also a remarkable event with the participation of 48 exhibition booths from 32 exhibitors coming from 15 different countries. Many of those are well-known enterprises in the fileds related to civil engineering, espeically to geotechnical engineerring. Figure below shows logos of all the sponsors and exhibitors for GH2019.